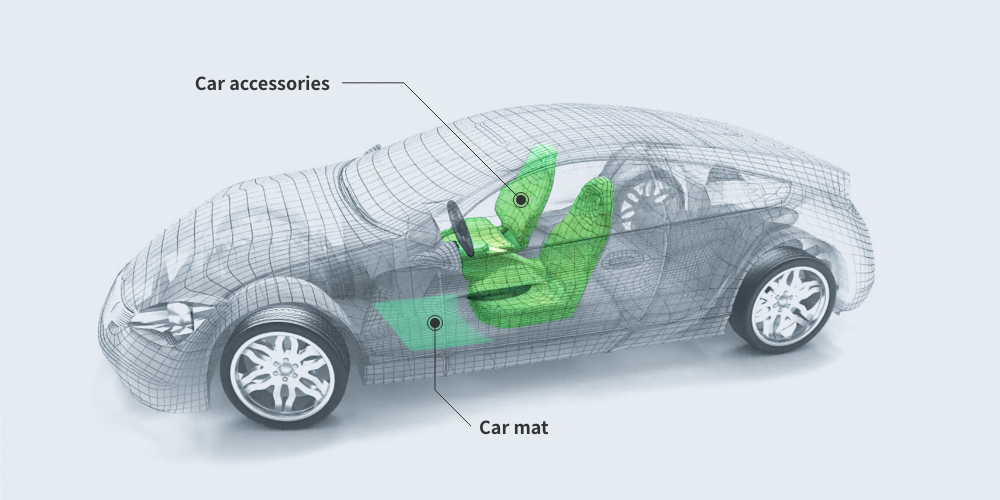 Suminoe Textile produces and sells Genuine Manufacturer car accessories, including car mats and seat covers, which meet strict requirements from automobile manufacturers in terms of safety, durability and design. Our products feature deodorizing and antimicrobial properties realized through our own R&D activities, antivirus performance, and various other functions. With these strengths, our products have been used by many automotive manufacturers at home and abroad.
[Model]

LEXUS LS

[Grade]

Type S

[Item]

Tango dantsu

This car mat is created taking full advantage of hand-weaving techniques for luxury carpets. The high-density volume provides greater foot comfort than ever before. The uneven surface is characterized by meticulous design.

[Model]

LEXUS UX

[Grade]

Type F

[Item]

Wilton carpet

Using Wilton fabric—a traditional British textile—this painstakingly woven product is highly durable, making it suitable for sports driving. This car mat also has deodorant, antibacterial and soil-resistant functions.

[Model]

TOYOTA 86

[Grade]

ー

[Item]

Tufted carpet

Its design is in the image of the car grille mesh using the initial T of TOYOTA as a motif. This floor mat is specifically designed as standard equipment for the model, giving consideration to easy pedal operation.

[Model]

NISSAN NOTE

[Grade]

Excellent

[Item]

Tufted carpet

This mat has a function to reduce offensive odors in a car, by absorbing and decomposing the smells of pets, cigarettes, sweat, etc. It is dedicated to NOTE e-Power.

[Model]

SUZUKI XBEE

[Grade]

X line

[Item]

Tufted carpet

Equipped with the "ALLER-BLOCK®" function to absorb allergens, such as mite feces, dead mites and cedar pollen, this product helps create a safe, comfortable and clean vehicle interior environment.

[Model]

DAIHATSU WAKE

[Grade]

Standard

[Item]

Tufted carpet

This product has a deodorizing function to absorb and decompose various offensive odors contained in the air. It is effective in removing the four major bad smells, including ammonia, as well as the smells of cigarettes and formaldehyde.

[Model]

NISSAN NOTE

[Grade]

ー

[Item]

Synthetic leather

This is a high-class leather-like seat cover. Its velvety texture and secure fit will upgrade the vehicle interior by producing a relaxing atmosphere.

[Model]

NISSAN SERENA

[Grade]

ー

[Item]

Flat woven fabric

This seat cover can not only refurbish the car interior image, but also protect the whole seat from becoming dirty with spilled food and drinks or with mud. It also has a water-repellent function, making it possible to always keep the car interior clean.
For inquiries, please contact:
Carpet and Accessories Business Division, Automotive Textile Business Headquarters, Suminoe Textile Co., Ltd.