2020.01.01information
The President's New Year Message for 2020
Happy New Year!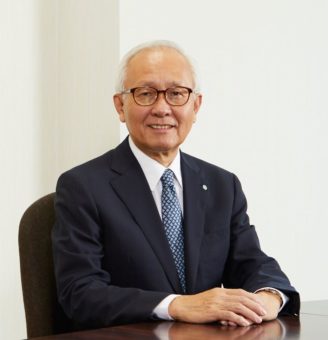 We very much appreciate all your support last year.   
In May 2019, the new Reiwa era started. The Japanese economy in 2019 faced weak consumer spending in contrast to the robust employment and income environment. Given the impacts of such a slow pace of the domestic economy and the prolonged U.S.-China trade friction leading to signs of economic deceleration globally, corporate performance also continued to fail to show strengths. This year, although we have expectations for higher growth in demand due to foreign tourists visiting Japan for the Tokyo 2020 Olympic and Paralympic Games, our perspective remains far from optimistic, finding it difficult to judge business conditions.
Under these circumstances, being in the final year of the Medium-term Management Plan 2020 inaugurated in June 2017, the efforts of all executives and employees have been unified to implement measures in line with the two theme axes: "Restructuring of corporate governance" and "Growth of business."
1. Restructuring of corporate governance
Bidirectional communication between top management and employees has been promoted with the aim of enhancing compliance and reviewing the administrative system. Furthermore, mission-critical systems are being restructured on a global basis for more efficient and effective monitoring and management decisions by checking revenues and expenditures as well as inventories on a timely basis.
2. Growth of business
To flexibly respond to customer needs in a timely manner, we focus on "Expansion of product lineups," "Strengthening of globalization," and "Development and sales of high value-added products." In "Expansion of product lineups," our efforts are concentrated on expanding products that go beyond our array of conventional fabrics; in "Strengthening of globalization," we are expanding businesses to Vietnam; and in "Development and sales of high value-added products," we are participating in exhibitions of advanced technologies and promoting joint research with independent organizations.
○ Raising our corporate value
Today we are facing the imminent issue of global climate change. Corporate behavior and businesses are being tested with the introduction of the ESG evaluation as the global investment standard. For about 20 years, the Suminoe Group has been working on the theme of health, the environment, and recycling. We will continue improving our corporate value by continuing to provide products required from the global market, through business operations that are friendly to both people and the environment, and a "horizontal recycling" business rooted in zero emissions.
○ At the turning point of the automobile industry
The automobile industry is undergoing a so-called "once-in-a-century" dramatic change. For instance, given that the full-scale domestic service of 5G technology is expected to begin by the end of this year, autonomous driving technology is expected to achieve further improvement for practical use. It is anticipated that a car will be transformed from being just a means of transportation to being a third living space besides the home and workplace when a driver is not needed any more in the change to AI (artificial intelligence). The interior materials are also expected to change in terms of design and functionality. Furthermore, if a car becomes a vehicle used by an unspecified number of people like trains and buses with further advancement of car sharing, materials requiring less maintenance will be used for the vehicle's interior. In this way, the trends surrounding the material and functionality of automobiles will inevitably change, but we consider this change as a valuable opportunity to demonstrate the strengths of Suminoe, a pioneer that for more than a century has led the two markets of Japanese automobiles and vehicle interiors.
Since its founding in the Meiji era, the Suminoe Group has contributed to enriching people's lives by offering comfort in both the living spaces where people gather and the inside of vehicles. In the new Reiwa era and into the future, we will endeavor to achieve growth of business while contributing to a sustainable society. All of our employees are firmly determined to step forward with the aim of responding to customer needs and offering higher-quality products. We look forward to your continued support.
Thank you very much.
Ichizo Yoshikawa
Chairman and President
Suminoe Textile Co., Ltd.