2022.01.01information
The President's New Year Message for 2022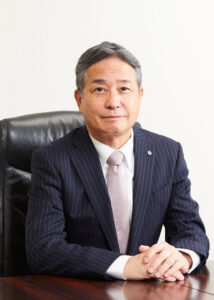 Happy New Year!
We very much appreciate all your support last year.
In 2021, as in the preceding year, the COVID-19 pandemic had an enormous impact on the economy and people's livelihood. However, the spread of vaccination and etc. helped revive the economy, which had been severely damaged, both inside and outside Japan. Currently, we are facing many challenges, including a decrease in automotive production due to the short supply of electronic components and the soaring prices of raw materials due to high crude oil prices. Nevertheless, over the 139 years since its founding, our Group has been continuing its business by going all out to overcome difficulties many times.
Also down the road, we will surmount difficulties and continue to grow by steadily working on our medium- to long-term management target "Suminoe Group Way 2022–2024–2027" (hereinafter "SGW"), which was launched in June 2021.
【Medium- to long-term management target "Suminoe Group Way 2022–2024–2027″】
 The SGW upholds the following three management policies:
・Establish better business models to globally grow as a company needed by society.
・Gain sound profits to invest in future growth.
・Strengthen ESG management.
Under these policies, all executives and employees are working together to achieve sales of 100 billion yen and an operating income of 5 billion yen in the accounting period ending on May 31, 2027, namely, the final fiscal year.
Meanwhile, as described in the Plan for Compliance with Listing Maintenance Criteria for the New Market Segment, which we submitted to the Tokyo Stock Exchange in December 2021, we have selected the Prime Market as the company's new market segment to be applied from April 2022. Although there were some requirements yet to be met as of the first reference date, we will remain committed to meeting the listing maintenance criteria for the Prime Market by the accounting period ending on May 31, 2024, namely, the final fiscal year of the SGW consolidated income and expenditure plan, by steadily implementing SGW to increase corporate value, strengthening measures to increase the number of shares outstanding, and enhancing investor relations activities.
[Suminoe Textile Group's Environmental Initiatives]
In 1990, we developed the regenerated polyester fiber "SUMITRON®" made from used plastic bottles, and also in 1998, we announced our present-day development philosophy "KKR+A" (Kenko [Health], Kankyo [Environment], Recycling, and Amenity). Through initiatives like these, we have been ahead of others in taking steps to help reduce our impact on the environment through our business. In November 2021, Sumitomo Mitsui Banking Corporation made an ESG/SDGs-based loan evaluation in accordance with the original criteria laid down by the Japan Research Institute, Limited. In the evaluation, our initiatives ranked second (comprehensive evaluation ranking AA) out of seven rankings.
For the main product in our interior business, ECOS® carpet tiles, we have established a horizontal recycling system for used carpet tiles, helping reduce CO2 emissions. Last year, ECOS® won two major prizes for its high environmental performance: the Economy, Trade and Industry Minister's Prize in the 4th EcoPro Awards, and the Grand Prize in the plastic resource recycling special category of the 22nd Green Purchasing Award.
This year, we will continue to bring together the wisdom of all group companies to take on new challenges, strive toward the further growth of employees and the group as a whole, and contribute to achieving a sustainable society.
Thank you in advance for your support.
Teppei Nagata
President
Suminoe Textile Co., Ltd.